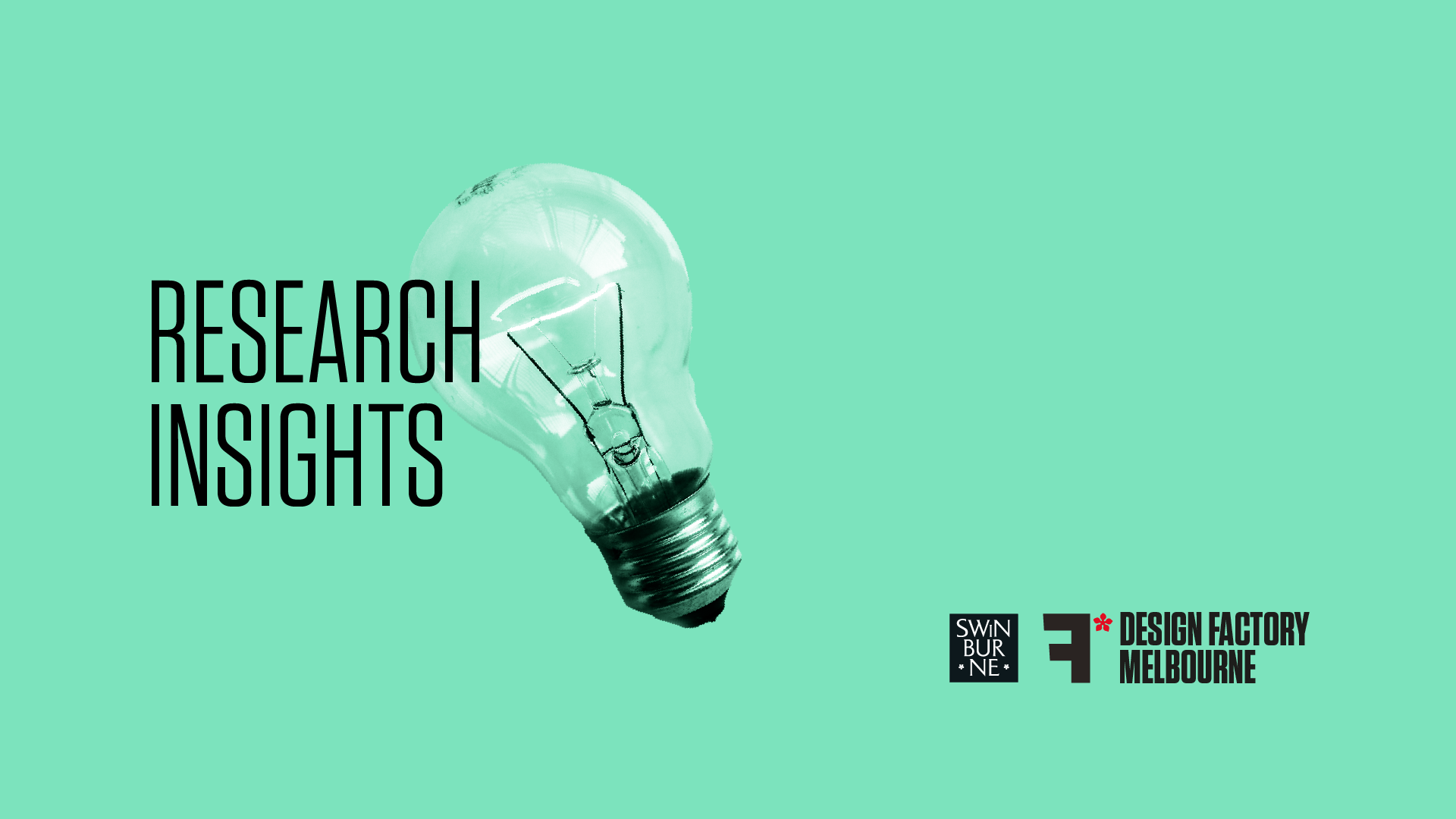 Your next lightbulb moment is around the corner!
Research Insights is a presentation series hosted by Design Factory Melbourne (DFM) aimed at fostering interaction and collaboration between academics, students, and industry. Presentations are informal and collegial – join us at the Firestation to hear what others are working on, or share something of your own!
Research presented will include works in progress, through to more developed and established content.
The event is held on the dates below from 5:00pm – 6:00pm (doors open 4:45pm) in the Firestation at 66-68 William Street (enter via McLeod Ln), Hawthorn.
2019 Research Insights
Thu 21 February – Linus Tan

Thu 11 April – Dr Sally McArthur

Thu 13 June – Dr Julia Prendergast

Thu 1 August – TBC

Thu 12 September – TBC

Thu 17 October – TBC

Share your interest to attend and participate by filling out the registration form at
bit.ly/research-insights-rsvp.
"Innovation is not linear. It is fuzzy, particularly at the beginning. On the journey, diversity is key, it improves the quality of results."
Dr. Markus Nordberg, CERN & IdeaSquare at CERN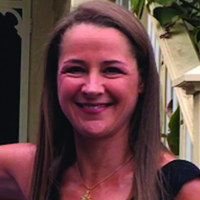 Thursday 13th June 5:00pm – 6:00pm | Dr Julia Prendergast
Our next event will be presented by Dr Julia Prendergast who is a lecturer at Swinburne University and writer of numerous books. Julia has a PhD in Writing & Literature and her research interests include theories of Cognition in Creative Writing Practice; Associative Processes in Creative Writing: Psychoanalytical and Neuroscientific Perspectives; Contemporary Australian Writing and Culture / Cultural Change.
 Julia's theoretical work focuses practice-based analysis of creative writing methodology, with a particular focus on meta-level processes: including psychoanalytic and neuroscientific approaches. Julia's research has appeared in international publications including: New Writing: The International Journal for the Practice and Theory of Creative Writing (UK), TEXT: Journal of Writing and Writing Courses (AU), Testimony Witness Authority: The Politics and Poetics of Experience (UK). Julia's stories have been finalists in international competitions including the Josephine Ulrick Prize (AU) and the Séan Ó Faoláin Competition (IE). Julia's fiction appears in publications including Lightship Anthology 2 (UK), TEXT (AU) and Review of Australian Fiction (AU). Recent stories appear in Australian Short Stories (2018, ed. Bruce Pacoe and Lyn Harwood).
Julia's professional affiliations include:
Australasian Association of Writing Programs (AAWP): Deputy Chair, Portfolio: Prizes and Partnerships
TEXT scholarly journal: Book Reviews Editor
Asia Pacific Writers and Translators (APWT): executive committee of managment
Australian Short Story Festival (ASSF): board of management.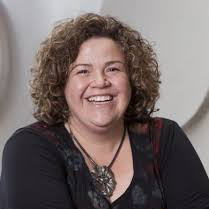 Thursday 11 April 5:00pm – 6:00pm | Sally McArthur

A Tale of Two Projects: Launching the Medical Device Partnering Program in Victoria and Creating 4D Cell Culture Systems, voyages in collaboration.
"It was the best of times, it was the worst of times, it was the age of wisdom, it was the age of foolishness, it was the epoch of belief, it was the epoch of incredulity, it was the season of Light, it was the season of Darkness, it was the spring of hope, it was the winter of despair…" Charles Dickens, A Tale of Two Cities
Bioengineering is an inherently multidisciplinary field, we bring together science and technology knowledge with insights from clinical practice and if we aim to create both useful and usable solutions, we welcome end users, designers and many others into our teams.
This talk will introduce you to two very different projects I am currently leading, one a research-led innovation approach and the other a community building exercise to integrate research and development knowledge to support the development of new medical devices.
4D Cell Culture Systems
There is increasing demand for reproducible and predictable 3D in vitro models that effectively replicate the tissue of interest and will enable the evaluation of biomaterials and smaller implantable devices. These systems need to
replicate specific physical and biochemical aspects of the biological system.
be readily manipulated to address specific research questions or target specific biological pathways
be reproducible, scalable and critically, validated against the gold standards.
This talk will explore the challenges in developing these systems and discuss approaches being made in the 4D Cell Culture team at CSIRO and Swinburne. 
Medical Device Partnering Program (MDPP) in Victoria
The MDPP was launch over 10 years ago in South Australia by Prof Karen Reynolds. Victoria is the first state to launch as part of a new national program roll out.  So what is the vision for the program in Victoria, how does it fit into our much larger and more diverse community and what opportunities does it create for researchers and entrepreneurs to generate new medical devices and assistive technologies? All this and more will be discussed!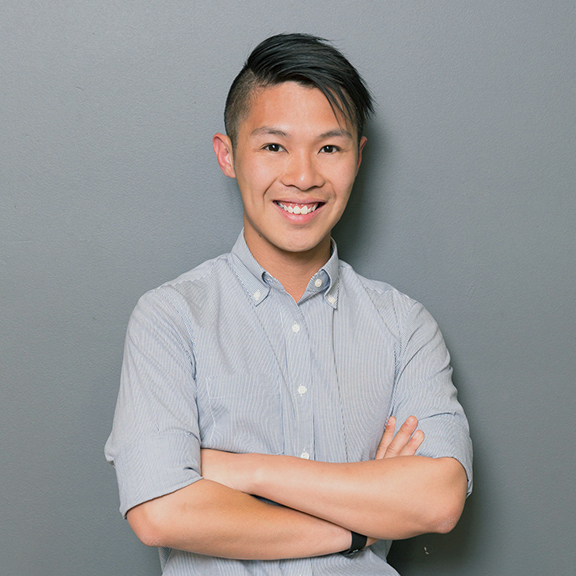 Thursday 21 February 5:00pm – 6:00pm | Linus Tan
Unknown Futures: What design can teach us in navigating uncertainty
It is undeniable that technologies are replacing our workforces. Labour-intensive roles are gradually being replaced by technologies like robotics and machine learning algorithms. Knowledge workers are at risk too. Development in artificial intelligence and computing processing power are endangering roles once thought to be safe from the machines. Without a doubt, the future of work is yet to be set in stone. Perhaps, it will never be.
With such uncertainties ahead of us, how can design make us future-ready? At its simplest level, the design process eliminates problems by developing solutions (design as problem-solving). At a more sophisticated level, the design process creates the opportunities for innovation and change (design as opportunity making). Yet, how do we continue operating at this level? Are we leveraging design enough to carve new opportunities out of uncertainties?
About Linus:
Linus Tan is a PhD candidate at Design Factory Melbourne. His research project seeks to identify how architects build and use their tacit knowledge in their design process and how said knowledge can be used as a strategic resource in their practice. His other research interests include design innovation, strategy formation and digital fabrication.
He graduated with a Master of Architecture degree and has worked on a range of projects, from human-scale pavilions to mixed-used multi-residential buildings. He also has Strategic Management experience from coordinating military organisations and directing a digital fabrication laboratory. He currently runs a foresight and strategy design consultancy and teaches design entrepreneurship.