The DFM Global Program—the 10 most intense, life changing months of my degree.

When my friends ask me what I did in the Design Factory Melbourne (DFM) Global Program, I have a bit of a hard time putting exactly what does happen at DFM into words.
I often start by explaining that I spent the year designing a new space saving shopping experience for the Portuguese retail company Continente with a team of DFM and Porto Design Factory students. However, this only begins to describe the experience—it's not just about the course work, but how the learning environment, people, and hurdles you face change you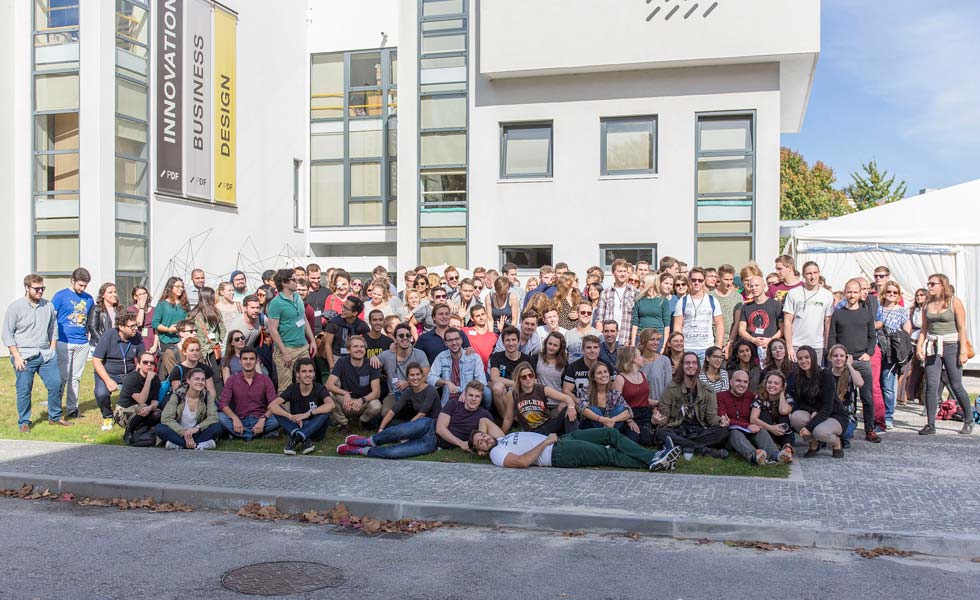 The ME310/SUGAR family together for the program kick off at Porto Design Factory.
By far one of the most life changing skills this program gives you is empathy. Sure, we all know what it means but what this program excels at is teaching you how to apply it to design and human centred problems. Empathy is the key to great design, as you can't begin to create a solution without first truly understanding the problem at hand. What's more, innovation involves diverse teams whose overall success depends on each team member's ability to understand each other's differences. It's our differences that make working in diverse teams so powerful for innovation and empathy is the key to turning your team mates annoying habit of extreme planning for example, into an awesome organisational tool for the project. Now that I've learned this skill I find myself judging less, understanding more and connecting better with everyone and everything around me.
The Flow Induced Vibration (FIV) project challenges the students to find a viable market application for clean energy generation. The vibrations that occur on a solid body when placed in a flow stream of fluids or wind are currently being investigated by Swinburne researchers.
Traditionally FIV has been viewed as having only negative impacts on infrastructure such as architecture, bridges, and off-shore structures causing undesirable stresses on the materials. However, Dr Justin Leontini with his background in computational fluid dynamics and team of engineers are researching methods for harvesting and optimising the renewable energy created by this naturally occurring phenomena.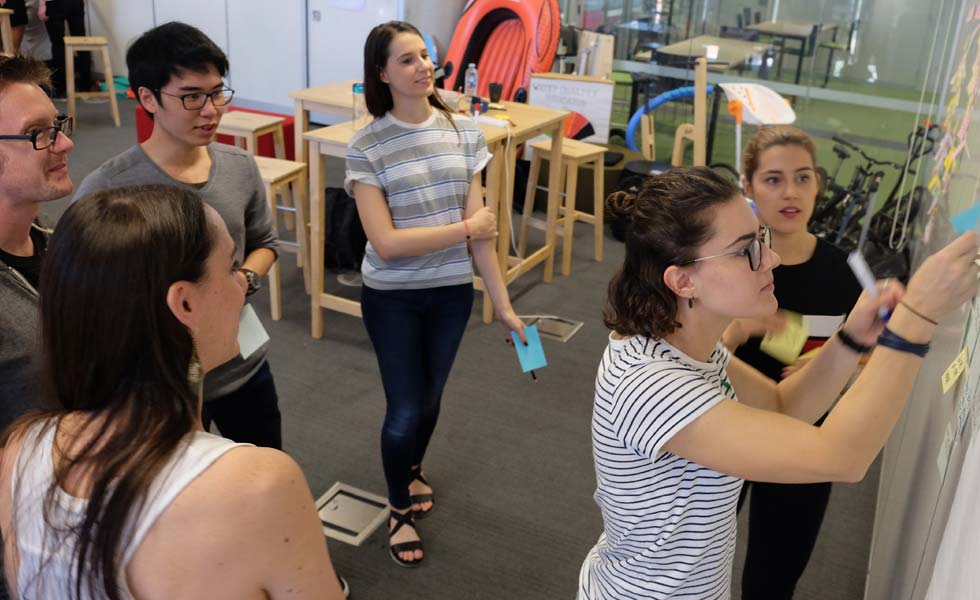 The ME310/SUGAR students working together to question and assess each others projects.
Going hand in hand with empathy is communication. Communicating ideas that are often not clear in your own mind to your team mates overseas, with an unreliable skype connection is incredibly difficult. It challenges you to improve how you communicate to others, this often happens organically as you test and try new methods on your own. In doing so, your interpersonal skills rapidly develop and soon what was a seemingly impossible task becomes increasingly easier. Complimenting this, the DFM environment enables you to learn how to quickly identify the best way to articulate an idea with different individuals, enabling you to communicate and connect with others on a much deeper level than ever before.
"Completing this program gives you a sense of empowerment that anything is possible, and you find yourself taking every new opportunity regardless of how challenging it may be."
The Design Factory Global program This program isn't easy. It's a year that you'll never forget but as a past DFM student told me "you'll absolutely love it but probably won't want to do it again". The mental strength you find yourself mustering up in difficult and stressful situations throughout the project is remarkable when reflecting back on it. Completing this program gives you a sense of empowerment that anything is possible, and you find yourself taking every new opportunity regardless of how challenging it may be.
Want new articles before they get published?
Subscribe to our Awesome Newsletter.