Discovering a safety net in disruption: My time at Design Factory Melbourne

Victoria Marszalkowski, Contributing Author &
Former DFM Staff & Students Coordinator
A place to call home and a home away from home. A community of like-minded individuals, ready and willing to challenge the status quo. Industrial designers, engineers, mad makers, disruptors, all creators in their respective field… and all somewhat gastronomically obsessed or curious. This is how I would encapsulate the brilliant couple of years and the incredible people I worked alongside during my time at Design Factory Melbourne (DFM).
When I first started at DFM, the very concept of a Design Factory – with its interdisciplinary learning, teaching and research, coupled with a heuristic approach to just about everything – was all shockingly new to me. To see business students working with industrial designers and occupational therapists was inspiring yet thought-provoking. The communal kitchen space, the seemingly never-ending source of creative energy and output, not to mention the open-minded curiosity and wide smiles of all who worked there, caused me much disbelief. 
Inevitably, I began comparing myself to my high-achieving, innovative peers, and as a result, there were times when my confidence took a huge hit. But in these moments of uncertainty when I found myself falling, I always knew that the principles of DFM – those of safety, of accepting and learning from failure, of responsibility, of communication and collaboration – had my back and were always there to catch me.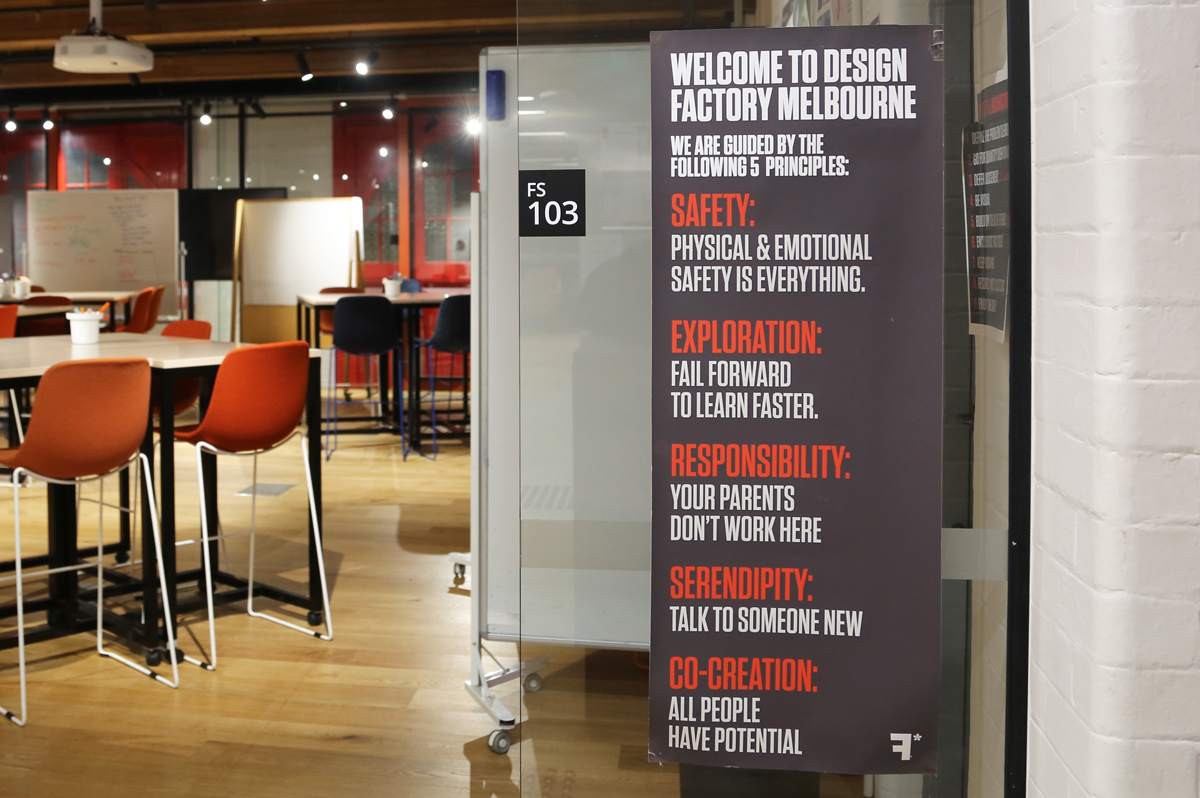 Our values are clearly articulated and proudly placed outside our Firestation studio
The five principles
All the principles work in unison, but if there had to be one overarching theme, for me it was safety. If there is safety, in every sense of the word, wrapped around and within what you are doing, then it is almost effortless to challenge the status quo. Apart from the standard company 'mantra' or 'motto', I had not come across a workplace with a set of 'ground rules' before. Once I got my head around what this framework really meant, I began searching for every opportunity to be a part of that community of disrupters. As the proverb states, 'rules are made to be broken' and Design Factories across the global network (DFGN) are constantly challenging the status quo. However, having a framework to 'break those rules within' can open the floodgates for autonomy and personal drive within a team. Each DF within the network is essentially working within their own environments but with a fundamental theme that centers around passion-based co-creation which can be felt as soon as you enter any of our buildings around the world. 
Failing forward and responsibility
The fear of failure can be completely paralysing but when these societal barriers and norms are challenged, wonderful things occur. In times of high stress due to deadlines and events, small and sometimes even big things can go wrong but whether they were individual or team mishaps the response from my team was always the same – to see it is an opportunity for growth and learning. 
Responsibility, failing fast and communication are the ultimate concoction ensuring a team can operate cohesively and encounter all levels of success AND failure together.
Diving into the deep end, (even if you are not an expert swimmer) and pushing yourself beyond your expectations, is vital to personal growth and key to setting new, unexpected boundaries for yourself. An important steppingstone on this and any journey, is also being surrounded by colleagues who support and encourage you (even during your failures). Knowing there is someone more experienced than you that has your back, in those moments of vulnerability, is a priceless.
Something that also goes hand in hand with learning from any experience or mishap is to take responsibility for your actions and be accountable for your actions, words and how you conduct yourself. If you are juggling and you drop a ball, there is no one else that can own it but you. This is by no means about pointing fingers and blame, instead, recognising; what occurred outside of the plan, what could have been done differently and what can be learned going forward. Easier said than done when there are emotions and egos in the mix, but it is essential if you wish to move on. Responsibility, failing fast and communication are the ultimate concoction ensuring a team can operate cohesively and encounter all levels of success AND failure together.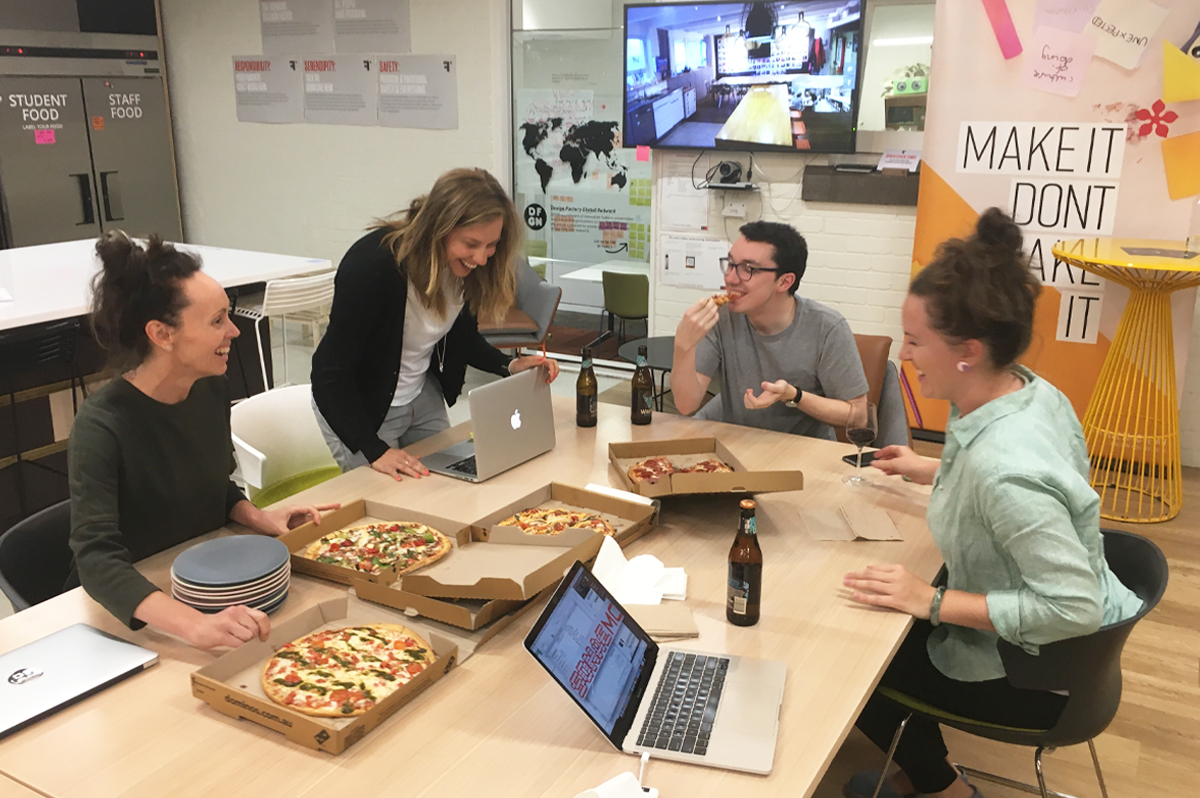 Kitchen and connection
Who would have thought that a kitchen could cause so much chaos?! A disruptive initiative, but also a crucial source of community, all Design Factories are essentially built around a welcoming and practical kitchen space (with mandatory and complimentary coffee!).
At DFM, the kitchen served as the heartbeat of our building, proving pivotal in fostering serendipitous connections and idea exchange. This is where I truly found my feet.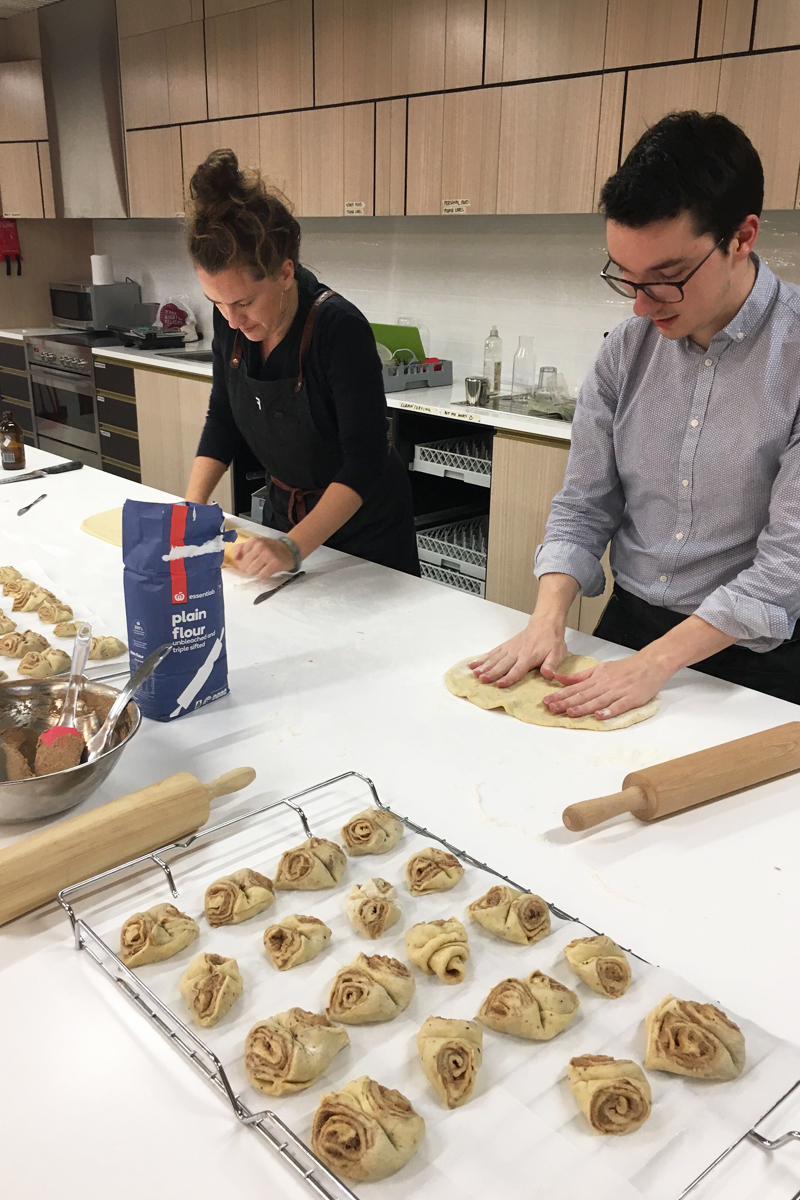 The kitchen is so central in the building that regardless of where you are going, you will have to pass by the space, meaning there was always an opportunity for a chance encounter. The smell of cuisines from the other side of the globe wafting around, luring you downstairs for a peek at who was cooking something utterly scrumptious. Another opportunity to connect with someone outside of our team; a student perhaps, cooking lunch with their friends, an industry partner or researcher catching up over coffee. These shared moments of stillness and connection offered much respite from the regularity of endless meetings and a flooding inbox. 
Whether we were whipping up a quick salad for lunch or spending a few hours after work baking the famous Finnish korvapuusti (I'll leave it to you to look that up)… Coming together over food in such an open and relaxed area, allowed you to leave insecurities at bay and helped break down many of the formal barriers that often exist in the workplace.
The informal space allowed colleagues to discuss some of these seemingly 'uncomfortable' matters in a space of total safety…and with a bowl of steaming hot soup in front of you! 
Everyone has potential

Potential is different for everyone, but regardless of what it means to you; leaving assumptions at the front door, being open to the viewpoints or perspectives of others and learning through your peers are all factors in our personal growth. Of all the lessons I have learnt during my time at Design Factory Melbourne, my biggest takeaway is that everyone has potential given the right support and environment, and it is the principles outlined above that enable us to drive meaningful change.