Rev Up with DFM Series – Bite-sized Learning to Support in Rapid Transformation and Disruption

Tiina Tuulos & Pauliina Mattila, DFM Workshop Team
Rev Up with DFM is a series of short posts to get your day started.
From May 2020 to October 2020, the DFM team wrote and shared 20 bite-sized articles on activities and approaches that support innovation culture and co-creation. The series was established to support continuous learning and development efforts for individuals and organisations as a response to the sudden disruption of work as we knew it and move to remote and online modes. The bite-sized activities and thought provokers have been shared under four themes: Gain Focus, Boost Energy, Find Inspiration and Make Connections.
Enabling Moments of Microlearning
Microlearning is present in our everyday life. We read and consume content online, via blogs, videos and social media posts. Microlearning is an accessible and easy way to engage in new knowledge creation, and it is a necessary and complementary approach to more traditional and often formal learning arrangements.
As the future of work is getting more uncertain and complex, we are all required to upskill and reskill ourselves more frequently than ever. Learning is not just something we leave in the classroom once we graduate. Instead, it has become a core part of our professional lives. The demand and interest for work-based learning and life-long learning will only increase as complexity increases and technologies advance, augment and replace tasks and jobs. 
Similarly, we at DFM are equally challenged by the drastic changes in work and need to integrate continuous learning opportunities in our own work. As part of our core offering, we design, develop and deliver various professional development and capability building activities, aiming at equipping professionals with the skills, mindset and capabilities for the future. Traditionally, these activities take place in person, but when work at the start of 2020 was suddenly transferred into fully remote and online mode, we took on the challenge to consider different ways of supporting professionals in their innovation activities and building their capability in the new conditions and constraints.
In this short thought piece we'll reflect back on our experience with this challenge, and share some of the key insights emerged throughout the journey.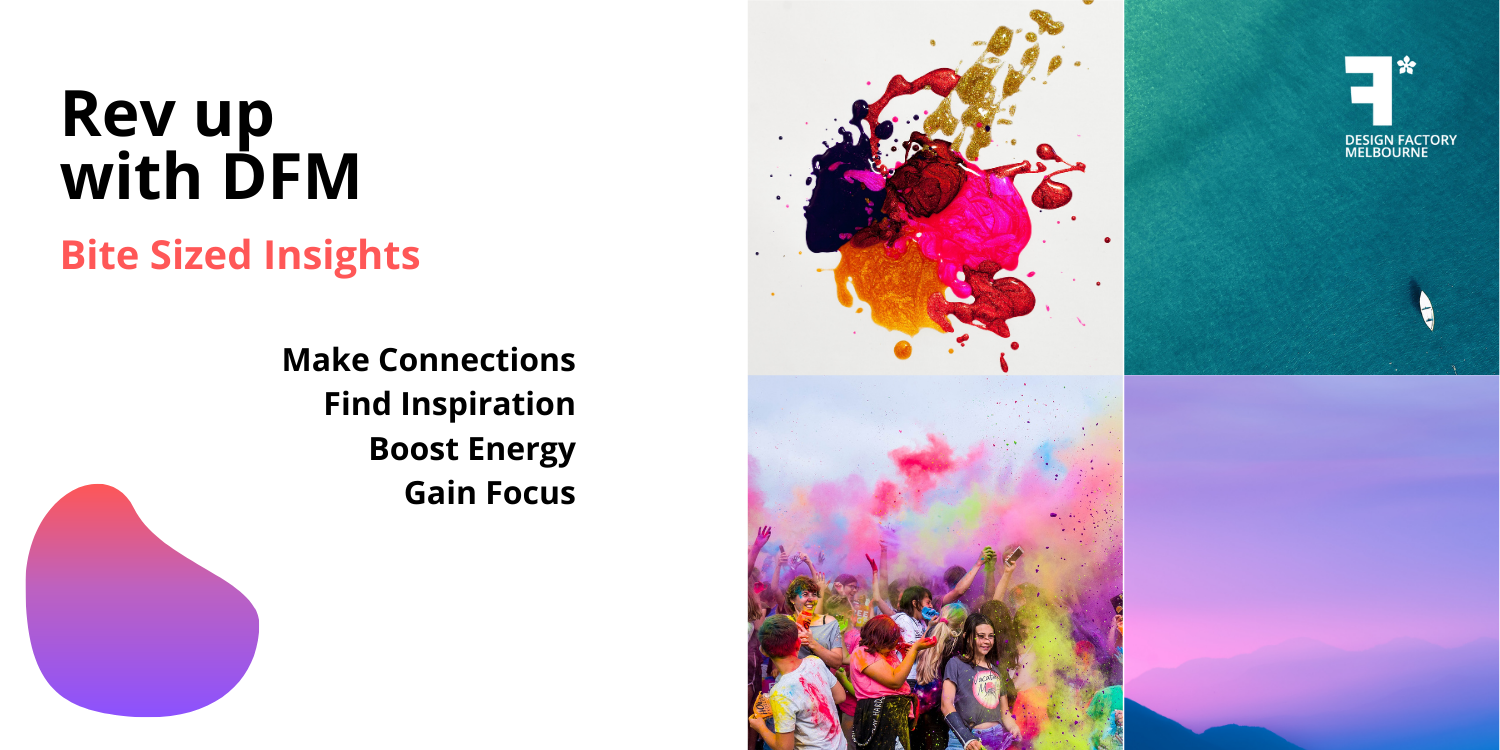 Supporting professionals in crisis and transformation
As a response to these rapid changes in our everyday work, we made an experiment and created Rev up with DFM, a series of bite-sized inspirational short articles. This article series was a way to support our community during this crisis, and a way to provide inspirational content that is easy to access, easy to digest and easy to put into action. In addition to embracing these principles of microlearning, the tiny bursts of ideas and activities were aimed to be practice-based and easy to integrate into the day to day, addressing also the well known challenge of adapting and transferring knowledge and learning from a formal training into the context of daily work.
"Microlearning facilitates self-directed lifelong learning, as short activities can be easily integrated into everyday activities. Small learning steps with small chunks of information can be used for learning in-between and on-demand."
(Buchem & Hamelmann, 2010)
To complement a strong practical and evidence-based approach in each write-up, we wanted to integrate a strong element of reflective practice. Since, increased capability in reflection helps us to create clarity in chaos, to ground learning and to identify our agency and influence, we integrated reflective practice in each article. This approach complements the strong practical and evidence-based approach we took throughout the series. 
"We do not learn from experience, we learn from reflecting on experience."
John Dewey
Our intention was  to provide similar opportunities for everyone working from home, as they would have when taking the space and time to join an in-person workshop or training. This experiment brought about unexpected benefits and insights which we were not able to anticipate, and enabled us to reach professionals beyond the walls of our physical home, the Firestation and the Swinburne campus, creating a universally useful and a long-lasting resource for inspiration and learning. 
Rev up with DFM – a series of 20 inspirational activities and insights
From May 2020 until October 2020 we co-wrote 20 short write-ups around different methods, approaches and tools broadly around innovation, creative problem-solving, collaboration and wellbeing. 
The purpose was to engage with and beyond our community, share our thinking, support professionals to navigate through changes of work, and to experiment with the way we share our training compared to synchronous in-person workshops, projects and sessions.
To champion the culture of experimentation, our planning phase was pretty short. We set the clear purpose and intention, and agreed on a few guiding principles for our experiment. First, we wanted to create something that is universally applicable and beneficial for any professional. We wanted to make this a meaningful learning opportunity also for ourselves, by drawing from our own passion, capabilities and interests. Finally, our goal was to make the experiment sustainable for ourselves and the audience, thus low threshold to both create and engage with. 
We started exploring different topics, themes and areas we would like to cover. Soon we realised that our interests span very wide and we would like to explore everything from the importance of grounding in your body and recognising physical presence to understanding the factors that contribute to our creativity and inspiration. After all, many factors in our environment, approach, collaboration, mindset and methods contribute towards innovation activities. We landed on four key themes, which would give us enough room to explore and share different viewpoints:
Gain Focus –

Focus declutters the mind and directs our attention and efforts making space for thinking.

Boost Energy –

Energy drives our bodies and surroundings. It gives us enthusiasm and determination to get things done.

Find Inspiration –

Inspiration reveals new opportunities and alters the perception of our own capabilities.

Make Connections –

Feeling connected increases our sense of belonging and enables us to thrive.
To keep the series consistent and enjoyable to read, we set a framework and a rough structure for each post, regardless of the topic. The structure allowed us to combine the evidence and practice-based approaches. Every article introducing an activity, thought or tool begins with what, grounding the write-up with one of our four themes. What is followed up with the why, explaining the benefit and purpose for this particular activity and is finished off with how and when, explaining how anyone can put these ideas, insights and principles into action and when they might be most applicable and beneficial. 
Finally, we tossed around different formats and platforms for sharing, such as podcasts, email snippets, calendar invites, designated learning groups in MS Teams or other instant communication platforms, and social media. Guided by our principle of easy access and creation and knowing that our community spans across organisations and countries, we landed on Linkedin posts that everyone can access and read the articles at a time that best suits them.
Insights from experimentation – learning goes both ways
Reflecting back on our experiment, we started seeing unexpected benefits. We did not only see our community benefitting and engaging with our content, but perhaps somewhat surprisingly we saw how the experiment boosted our own confidence and built our thinking as coaches, lecturers and facilitators. This was a platform to explore areas we were curious about and interested in, and it also pushed us to articulate our thoughts and reflect on these topics each week. It created a continuous learning opportunity for us as a team, and became a work-based learning initiative on its own. 
In addition, we found synergies whilst designing online capability building and training, as we were able to translate and tackle some of the topics and questions that came up in workshops in the Rev up format. Furthermore, the bite sized learning articles aligned with our online training content and we were able to use them as context setting or follow-up learning materials.
Throughout the whole 5 month journey we worked in a very collaborative manner, co-writing and planning content together. We were able to learn from each other and got to be exposed to each others' thinking in a whole new way. The series created a rhythm, a reason to come together on a weekly basis and an opportunity for us to be curious and explore a new topic together. Furthermore, as we chose LinkedIn as the platform for sharing the articles, it gave us an opportunity to share our thinking to our wider networks. We also had an opportunity to collaborate beyond our immediate team, which was something we would have loved to explore even more. 
We were really excited to see our community engaging with the content directly via comments in each Linkedin article but also people shared the articles in and outside of the original publishing platform. Participation and discussion as an innovation community was something we were hoping to achieve already in our planning phase.
As the creation of the articles was always very passion-based and organic, we did not expect to reach an equal amount of articles under each  theme. As a result, most of our thinking circled around the themes Find Inspiration (7) and Gain Focus (6). Most likely these two themes became most popular, as they provided context for creating conditions for innovation, creativity, inspiration and reflective practice. 
We hope you have enjoyed this experiment, and if you have not had a chance to engage with the Rev up series, you can find all posts under each of the four themes via the links below. We are curious to know what you would need to continuously learn and integrate more moments of microlearning in your day to day. What kind of conditions would support your learning? What would you need to sustain curiosity, creativity and innovation? 
We are looking forward to taking onboard all the insights and learnings from this experiment, and to continue creating opportunities  for ourselves and others to learn.
You can always comment on the post below or reach out to us at dfm@swin.edu.au.
Rev up with DFM Series 2020
Gain Focus
Find inspiration
Make connections
Boost energy
References:
Buchem, I., & Hamelmann, H. (2010). Microlearning: a strategy for ongoing professional development. eLearning Papers, 21(7), 1-15.