Collaboration in a Global Virtual Festival – How to bring five continents virtually together for one week to collaborate effectively
Marthe Dehli, DFGN
Tiina Tuulos & Pauliina Mattila
What do you do when you are expected to get together representatives from 25 different universities and research institutions around the world and the calendar shows the upside-down year of 2020? You defy 18 hours of time difference between the East and the West, and you move everything online.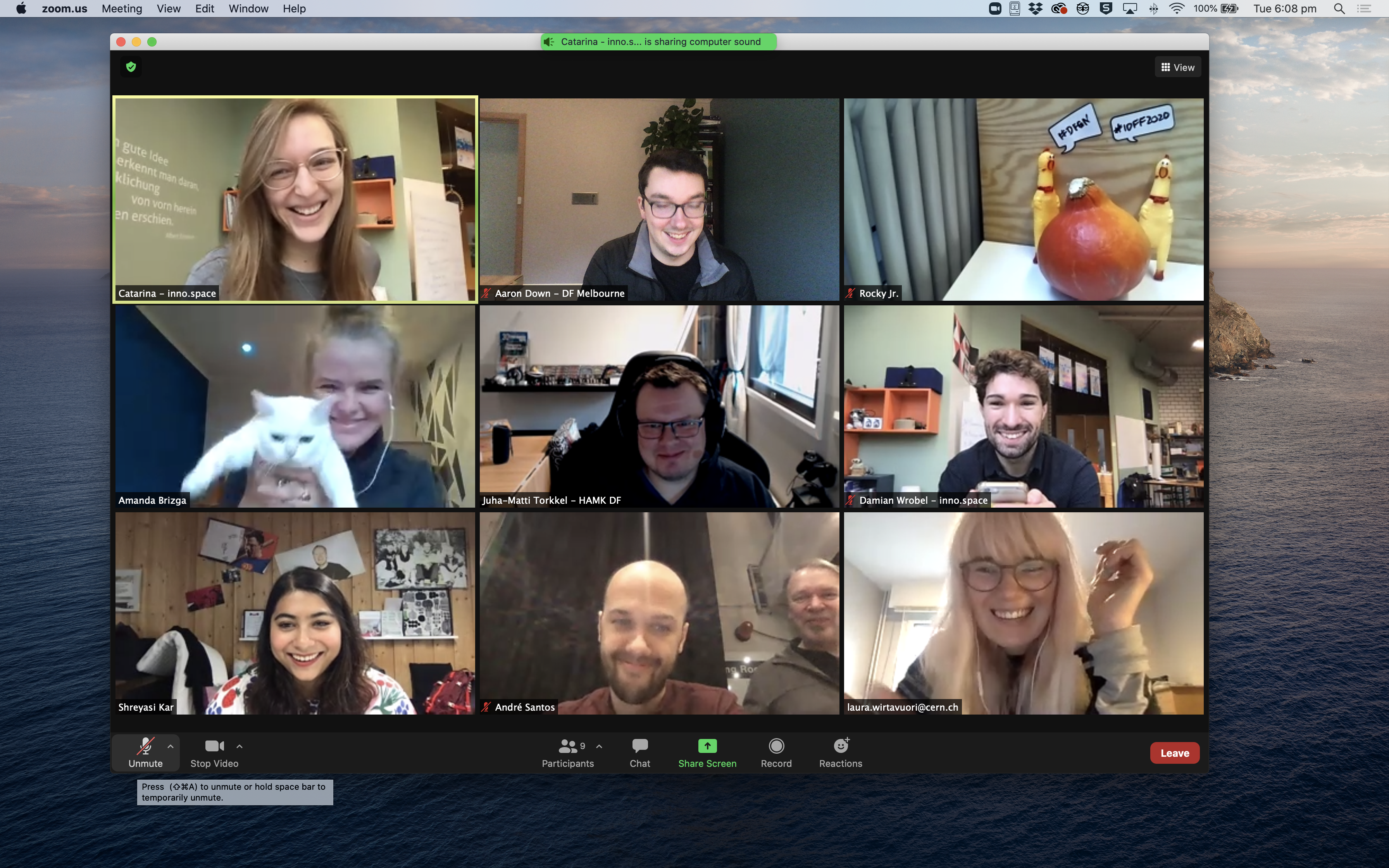 Image: Design Factory Global Network
Every year, members of different Design Factories across the globe gather to share best practices, plan for collaborations and get to know each other in the quest of making higher education more innovative. The location and the host for the week change each year, allowing every design factory to introduce their ecosystem to the network and vice versa. The Design Factory Global Network (DFGN for short), now standing 31 Design Factories strong, consists of innovation hubs in different universities and research institutions, spanning from North America to Oceania. Common values and practices enable the members to collaborate across time zones and cultures, despite differences in governance and setup.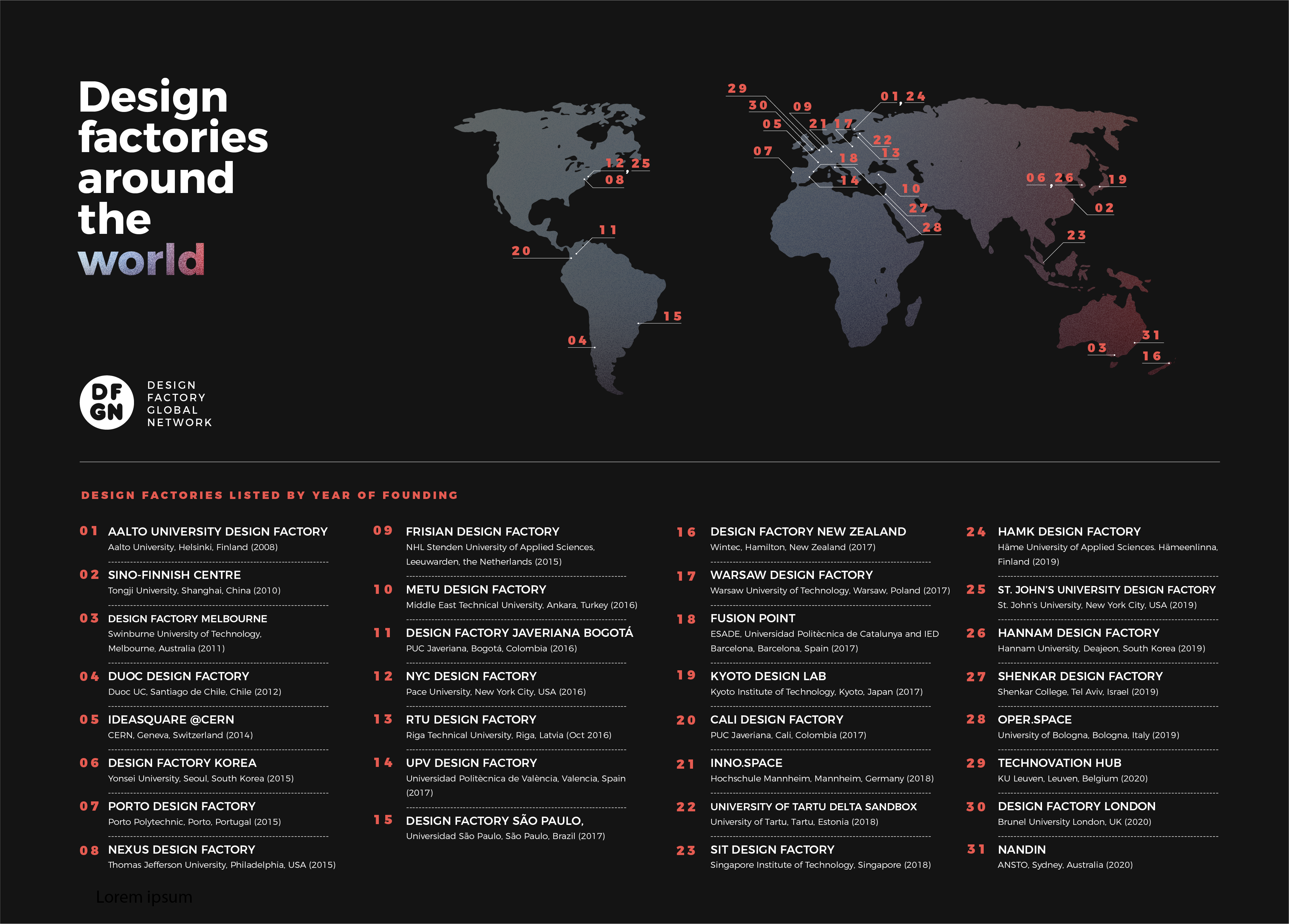 Image: Design Factory Global Network
This year the annual gathering became the International Design Factory Festival. 
"We were supposed to meet at the Future Design Factory in Leeuwarden, Netherlands. As the COVID-situation developed, it became evident that we had to go back to the drawing board to rethink and redesign the concept." says Päivi Oinonen, DFGN Manager from an office in Aalto Design Factory, where a dedicated team supports the Design Factory Global Network.
 Challenging circumstances provided an opportunity to move the annual gathering online for the first time.
"The digital format comes with its own set of challenges and opportunities. When we meet in person, we have to limit the participation to two representatives per design factory. By moving everything online, we were able to up parts of the program to the whole network and beyond," Oinonen explains.
The previous concept took a slightly different shape and grew into a week-long virtual festival that included several events and activities. All of these online encounters and activities enabled us to learn from direct peers and the wider communities, get to know how other design factories 'do design factory', be inspired, find motivation, and gain new insights. 

Image: Design Factory Global Network
Different design factories created, facilitated and hosted, program around the clock. The week offered 59 different events and a total of 66 hours of program. The sessions varied from panel debates on learning in different contexts and conditions to interviews with in-house prototyping experts, and discussions and workshops on best practices in digital learning – to mention a few.  A total of 1081 participants joined the program, and according to Oinonen, they had engaging experiences. 
"The feedback from the participants was even better than we dared to hope for. But most importantly, we had more project collaboration ideas come to fruition than expected in this unusual year. And even better, the ideas for collaboration are well thought through and I expect many of these to take place in the following year."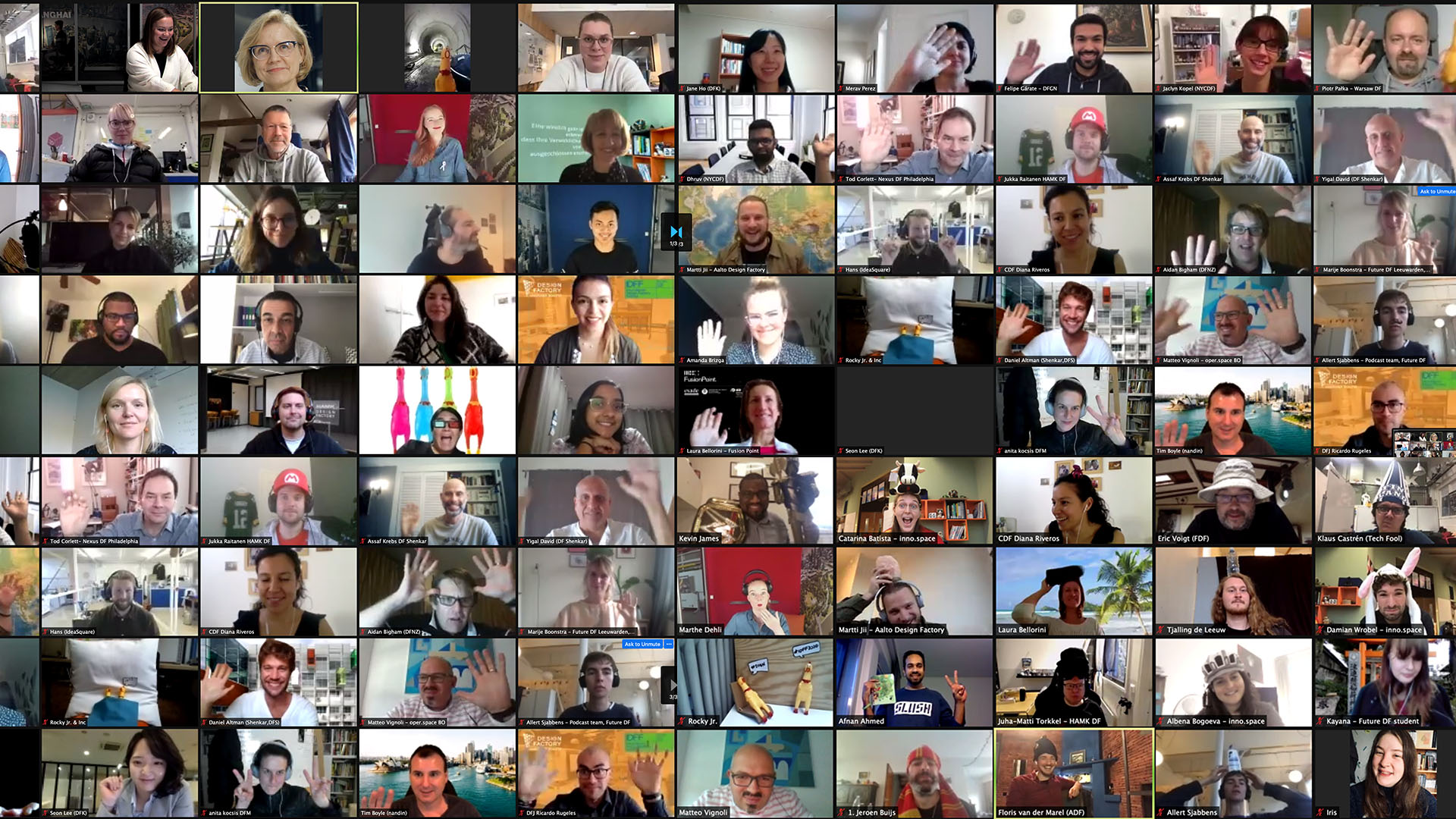 Image: Design Factory Global Network
DFM had a pleasure to co-host different events in the Eastern time zones together with Design Factory New Zealand. The sessions we hosted focused on exploring future skills and learning, showcasing tools to enable prototyping in an online and a virtual context, identifying and unpacking challenges in innovation cultures and ecosystems, and advancing our collective understanding and practice of coaching in innovation ecosystems. 
We were specifically interested in exploring coaching with the network, as it one of the essential ingredients of the design factory approach, engendering 'what we do' and 'how we do it'. The topic was advanced during the week in an exploratory workshop, followed by further development in an Open Space collaboration. As a result, a community of practice in the Asia-Pacific region was established. This community of practice now comes together on a monthly basis, aims to formalise coaching expertise in the innovation and higher education context and looks forward to sharing best practices within the DFGN. The way this topic was explored and advanced during the week is for us a testament to how we can effectively work on something together in a virtual environment.
All in all, we at Design Factory Melbourne, found the IDFF as a wonderful opportunity to collaboratively explore and discuss topics relevant to our context together with our peers and colleagues from all around the world. We would like to thank everyone who joined us during the week in the different sessions and shared their insights and expertise! If you would like to revisit or get to know some of the discussions and expert insights from IDFF, have a look at the DFGN Vimeo for recordings for and Soundcloud for podcasts.