Behind the Scenes of Creating and Engaging Online Experience – A Facilitator's Perspective

Tiina Tuulos, Pauliina Mattila & Amelia Iverson
Has the online environment just been a necessary substitute for work taking place during the pandemic or is it here to stay in the post-pandemic era?
After more than a year of digital life it is a good time to reflect on the characteristics and effectiveness of online collaboration, especially in situations where we want to bring people together and different perspectives to the table, be it a workshop, a meeting or a professional development session. In this article, we draw insights from our experience in facilitating workshops and other collaborative initiatives online and make comparisons to the delivery in person.
Like many other professionals, we at DFM made a drastic shift to the online world at the start of 2020. We were puzzled by how to translate key elements of our teaching and professional training activities – learner-centricity, learning-by-doing and participatory approaches – and we were concerned that the experience would not be as rich as it was through in-person delivery. Specifically, experiential learning is a key driver for designing any of our activities. Experiential learning is a non-theory or teacher-led endeavour that is holistic and embraces learning by and through doing (Dewey, 1938). This type of learning typically flourishes in an in-person collaboration setting through interaction and hands-on activities. Being able to provide impactful learning experiences regardless of the medium is important, as being able to continuously learn throughout a professional career is critical to remaining relevant in the workforce. 
During the past year, we have seen an abundance of tips and tricks to enhance online meetings and workshops, specifically around how to interact with participants and which online platforms to use and how. In this article, we aim to dive deeper into the insights and facilitation nuances in an online context, and the unique opportunities that can be harnessed when designing engaging online experiences. For us, the online environment has further increased the awareness of and the need for creating a favourable space for learning and to clearly articulate expectations. It has also raised the importance of different kinds of short warmups, ice breakers and transitional activities.
As a result, we've paid special attention to how we build trust and psychological safety online, ensure instructions and expectations are clear from the start, support participants to be grounded and present, facilitate shifts in mindset, manage team dynamics and ensure we create space for both individual and collective thinking. 
Below you can read through the stages of creating an engaging online learning experience, call it a virtual production. Just like a theatre performance, it requires careful crafting and preparation.
1. Build the Stage
The best results tend to come when we design an experience from scratch.
In our experience, an online learning session needs to be purpose-built. We would not recommend replicating an existing workshop built for in-person delivery. A digital experience can equally have ambitious goals and be highly effective. Achieving that in an online environment requires specific considerations for the session flow and engagement with participants and outcomes. Leverage the opportunities of distributed collaboration, digital platforms, and asynchronous interaction. You can use visual elements and rich media as prompts, different ways and modes of interacting, for example through including more frequent breaks for reflection, gain continuous and immediate documentation through online platforms, or include offline activities to mix up the working modes.
"That it's truly an entirely different context, not simply an in-person meeting or class on a screen. And while you should shoot for the same goals as you would in an in-person setting, you'll need different tools to achieve them." (Molinsky, 2020)
2. Casting Call
Online sessions are not endlessly scalable – balancing with the participant-facilitator ratio.
Once the purpose and the concept of the session have been decided, it's time to look at the participants. This normally includes considerations around the number of participants, their background and relevance to the session. This also informs the decisions around the number of facilitators to ensure the right level of support.
Digital platforms and environments are scalable by nature, and a common expectation is that online sessions can automatically allow a larger number of participants compared to an in-person session, as we are not bound by the size of a physical space or the number of chairs and tables. What we have noticed, however, is quite the opposite. In our experience, facilitating training in an online environment calls for a high facilitator-to-participant ratio and thus online training or workshops don't automatically scale up. When aiming for an interactive session with personalised guidance to the participants, a facilitator can only spread their time and attention across a limited number of participants.
From our experience, our guiding principle is to have 1 facilitator* per 4-6 participants, to ensure each participant gets the attention they require and guidance with personalised feedback during the session. Having an equal number of participants aligns with an ideal size for group collaboration which is easy to facilitate in online breakout rooms. The group size should not be larger than 6, to ensure a balanced dynamic and opportunity for everyone to engage. 6 people tends to be a sweet spot for a productive team and effective communication. Limiting the group sizes is specifically critical in an online context, as 90% of our communication can be lost in the digital interface, such as the lack of non-verbal cues or lag in the internet connection, it is more challenging to read each other and to maintain a good conversation flow.
An inspirational talk or webinar with passive participation can certainly be run by one facilitator for a large audience, but an experiential, immersive and interactive session calls for more coaches on the online ground. The ideal number of facilitators is dependent on the purpose of the session and the type of experience you want to give to the participants.
* A facilitator is someone who remains neutral and guides the participants through an effective experience. For example, a facilitator keeps track of time, steers the group towards the right direction, ensures balanced participation, supports documentation and assists the participants to get through sticky spots. We also recommended having one facilitator solely focussed on technical support, managing breakout rooms, links, chat and other elements in the background.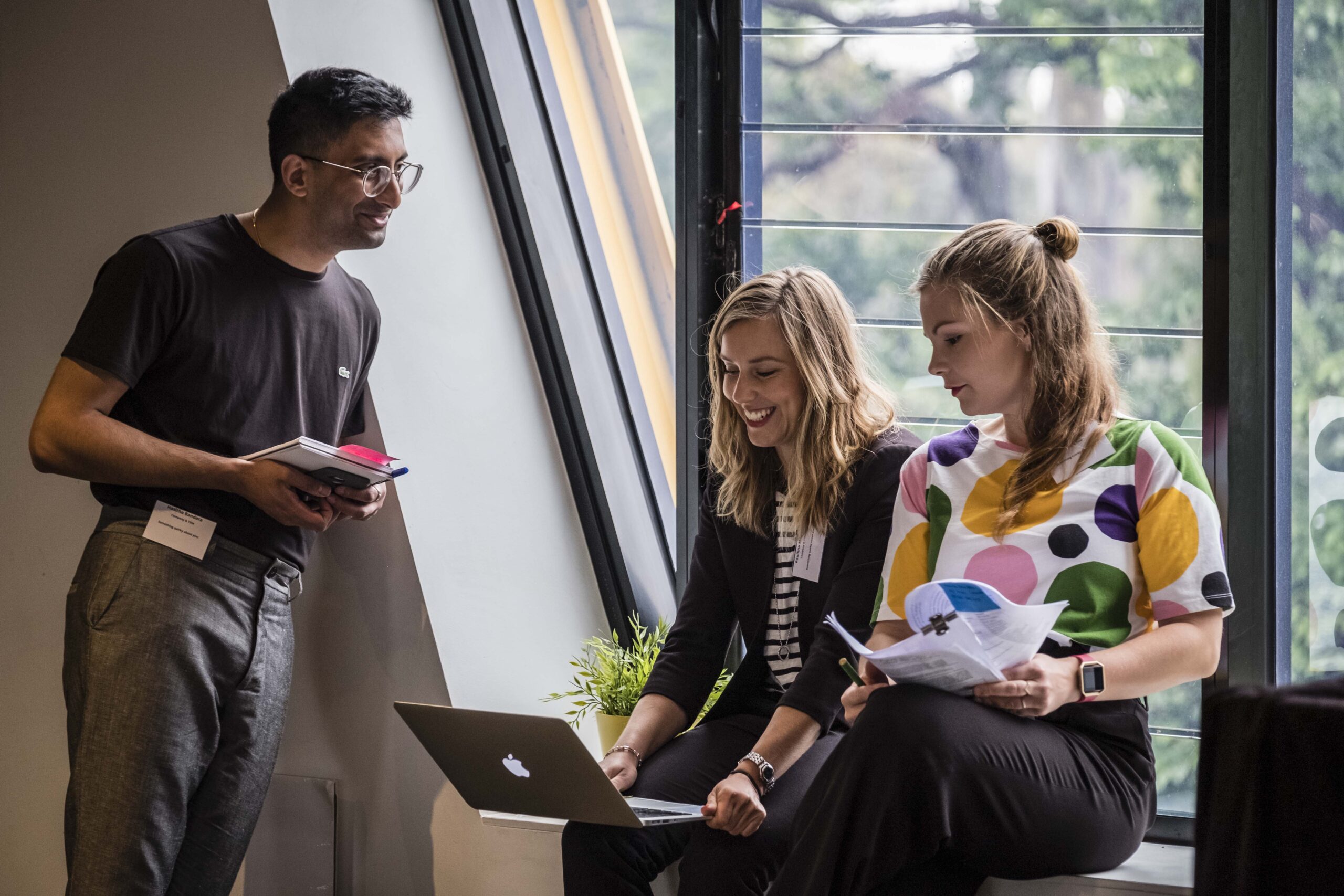 3. Set the Scene
Framing the context and setting expectations.
Expectations should be laid out at the 'top of the show', in other words, at the beginning of the session. By the time the participants arrive, it is important that they know exactly what is expected of them in terms of their attention and participation. If they need to be engaged, they need to know that this is an interactive workshop. This is because often online events are perceived as requiring passive participation even if they're framed as a workshop.
In an online session, participants have much more responsibility and agency over their own experience. There are many ways participants can manage their experience and the information flow. For example, if some wish for background music while working but others find it distracting, participants can manage their experience by turning their volume down. Or if one participant requires more support from the facilitator whilst others are silently thinking, the rest of the group can tune out from the chatter if they wish. In some situations, facilitators might want to encourage equal participation by limiting verbal sharing and instead, encourage the participants to join the conversation asynchronously by adding their thoughts on an online whiteboard or other documentation platforms. All in all, setting expectations is again key.
The online environment also enables designing sessions in a way that participants can flexibly move through activities at their own pace if they feel confident doing so. This is an excellent way to reinforce the agency in their work output and the facilitation can be flexible to the needs of each participant.
4. Warming up the Audience
Getting into the right frame of mind for the session ahead.
During a session, the headspace the participants are in largely defines what their experience is like and how productive it is. This is where we as facilitators come in as our responsibility is to provide conducive settings for such a headspace. One way to provide those settings is to do a tuning in or a short warm-up exercise that prepares the participants for the activities ahead with the right headspace.
This preparation is equally important in any collaborative session whether it's online or in-person, however, in an online environment, it's harder for us to read each other through the screen. To compensate for this, we have included small tasks in workshops such as doing an emotional temperature check (a self-checking-in) and getting participants to both reflect and share their current feeling, which cultivates a safe environment for everyone. This is both an effective way to acknowledge your own emotions but also to hear those of others. Moments of intentional reflection allow us to note how we are feeling in a particular moment which also lends to our performance (Tuulos, T et al 2020). This all contributes to creating psychological safety, which is a key component of effective learning. In this environment, participants feel comfortable voicing their thoughts and do not fear being judged. When we feel safe, we are more likely to have a divergent mindset and use creativity to find different solutions (Delizonna 2017). Fear, among other negative emotions, can block learning, "while positive feelings of attraction and interest may be essential for learning" (Kolb & Kolb, 2005, p. 208).
Moments of sharing feelings and the work progress should also promote participants' confidence to ask for help. As facilitators, we often need to guide our participants through an experience or intervention, and only after that, they might realise what type of help or support they might need going forward.
5. Curtain Call
Getting and calling for attention and presence in the space.
From a facilitation perspective, managing multiple teams in a workshop is quite different online than it is in person. During a workshop, quite often teams are in different phases and this might cause situations that call for the facilitator's attention. A facilitator can roam around the room in a physical space, observe different teams to sense their progress, and pre-emptively offer guidance. Also, participants have a low threshold of asking for guidance when a facilitator walks past. While a roaming facilitator is also possible in an online environment, the interruption becomes far more significant if a facilitator joins a breakout room because it catches everyone's attention and often disrupts the group's workflow.
As a result, facilitators find it hard in an online environment to have a view of the overall progress of each team. Eavesdropping or following a conversation from a distance is virtually (pun intended) impossible in an online setting. Due to this, we aim to allocate one facilitator for each team throughout the workshop so that the support is available to the group at all times. Another approach is to ensure both the facilitator and the participants have the opportunity to hear each person see where their thinking is, and we often include more formal checkpoints and moments of sharing throughout the session. In addition, online whiteboards or other collaboration platforms where work is documented allow the facilitators to visually see how the teams are progressing in their tasks, offering an alternative way to keep track of a teams' general progress.
6. Reflect and Rehearse
Application and translation of learnings are key.
For the participants, the learning session is the first opportunity to expand knowledge, insights, capabilities or experiences on a certain topic. The true value is being created and captured afterwards when applying and transferring the learnings into the day-to-day. One of the keys to a successful transfer is having clear documentation of the work throughout the workshop, which helps identify the following steps that the participants can take away after the session. The benefit of working online is that the documentation is available right away to be used later or as proof of the workshop outcomes, whereas in an in-person workshop, the paper documentation, post-it notes and whiteboards have to be digitized or filed to share the records. At the end of the day, good facilitation provides a good launchpad for learning for the participants, but to maximise the value, participants will need to continue from where the session left off to benefit from the work going forward.
"I cannot teach anybody anything – I can only make them think." – Socrates
A New Normal of Integrating Both Worlds
Are we desperate to turn back to our physical whiteboards and sticky notes? Along with the drastic changes in how and where we work, we also need to consider the new normal for designing different learning experiences. We see many opportunities to include some of the learnings in the online environment into our ongoing practice. Online interaction allows us to scale our content and offerings rapidly, flexibly involve and engage with participants beyond a geographic place or time zone, and have automatic documentation of the activity. It is clear that our ways of working have shifted, and moving forward, we see a better integration blurring the boundaries of online and analogue.
References 
Delizonna, L 2017, 'High Performing Teams Need Psychological Safety: Here's how to create it', Harvard Business Review, 24th August 2017, viewed 23rd June 2021
Dewey, J. (1938). Education and experience. (S. and Schuster, Ed.) New York.
Kolb, A. Y., & Kolb, D. A. (2005). Learning Styles and Learning Spaces : Enhancing Experiential Learning in Higher Education. Academy of Management Learning & Education, 4(2), 193–212.
Molinsky, A. (2020). Virtual meetings don't have to be a bore. Harvard Business Review, March 2020. https://hbr. org/2020/03/virtual-meetings-dont-have-to-be-a-bore, accessed.
Tuulos, T Mattila, P Iverson, A Van Der Marel, F 2020, 'Rev Up with Design Factory 2: Connecting with Positive Moments', LinkedIn, 19th May 2020, viewed 7th July 2021