Study at the intersection of university and industry
Design Factory Melbourne is a culture for open innovation, supporting interdisciplinary collaboration (business, engineering, design, etc.) with industry partners.
By studying with design factory you will:
Gain real world experience by collaborating with industry partners.
Work on a unique project where you and your team decide the outcome.
Be part of the global Design Factory culture and open doorways to new career paths.
Be challenged to develop new technical and professional skills.
Learn more about your study options and how you can embed a Design Factory experience in your studies. Please drop us a line at dfm@swin.edu.au and our team will be in touch!
"Design Factory is such a welcoming and open space to explore design and design thinking. Overall, it has been a great experience as it taught me to work with people from different backgrounds and apply design in a non-traditional way. There are so many different ways of learning, and I see DFM as a space to grow. It's where everything can be pulled together and not only help you to develop your design skills, but also develop as a person"
-Jaiden Gusti
Bachelor of Design (Honours). Major in Communication Design, Minor in Design Management, Minor in Innovation.
"Design Factory has taught me the power of collaboration and working with people from different backgrounds - I worked with designers, engineers and business students, which was really great. This definitely enhanced my communication and interpersonal skills because you have to be so clear collaborating with others, to unlock the potential of the teams' diversity."
– Amelia Iverson
Bachelor of Business (Professional). Major in Entrepreneurship and Innovation, Minor in Public Relations
"The Design Factory experience changed me in a way that no other university, or workplace, context could: it taught me how to make things happen spontaneously, collaboratively and on the edge of what's possible. I learned new skills that I didn't even know existed and the best part was that they were often self-taught, and alongside my peers. The structure of DFM allows you learn not just from your lecturers, but also from other students, and you get to teach them, too. It's all about connection, growth and challenging the boundaries of your creativity."
– Natasha Miles
Master of Design Strategy and Innovation
OUR STUDENTS
At Design Factory students come first. Students become a part of an innovation community, get to learn and experiment in a safe environment and have the opportunity enhance their professional capability through learning skills for the future. Our students are curious, creative, diverse and full of amazing potential.
GET A GLIMPSE INTO LIFE AS A DF STUDENT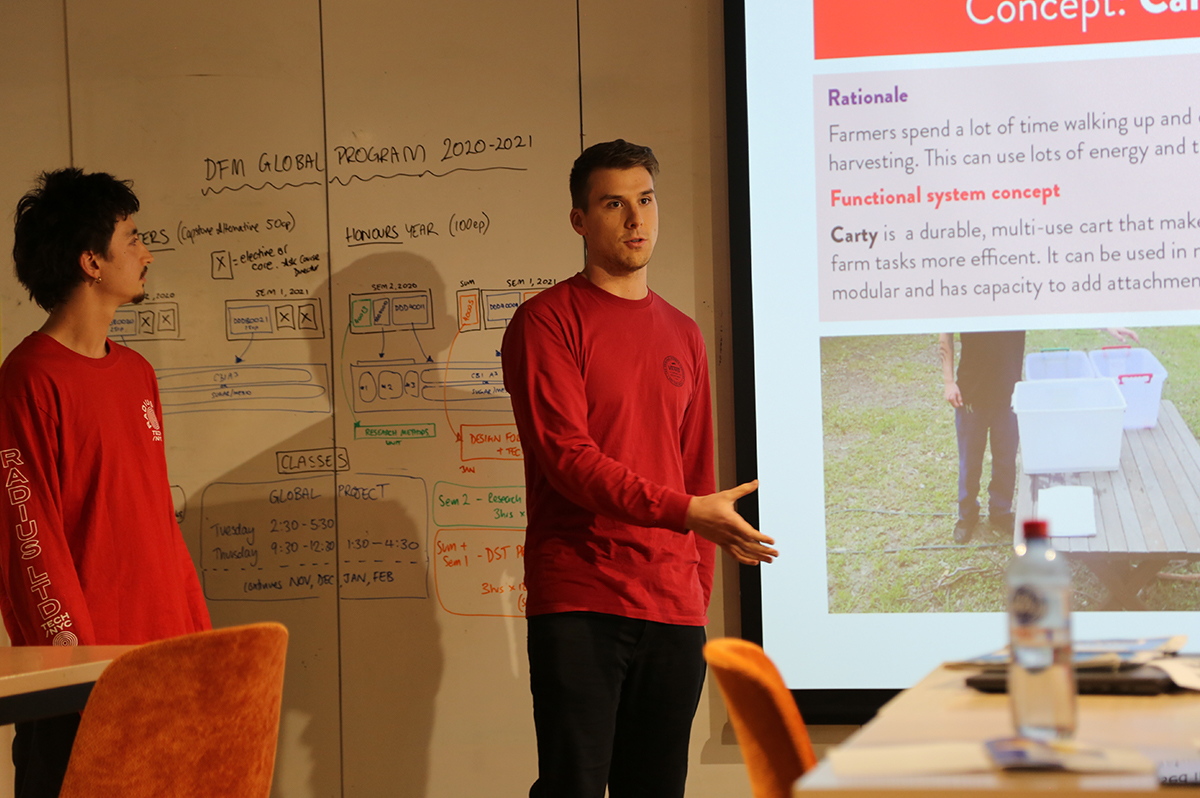 Josh Bragagnolo
Industrial Design student Josh has completed both the local and global streams at DFM – read about his experience.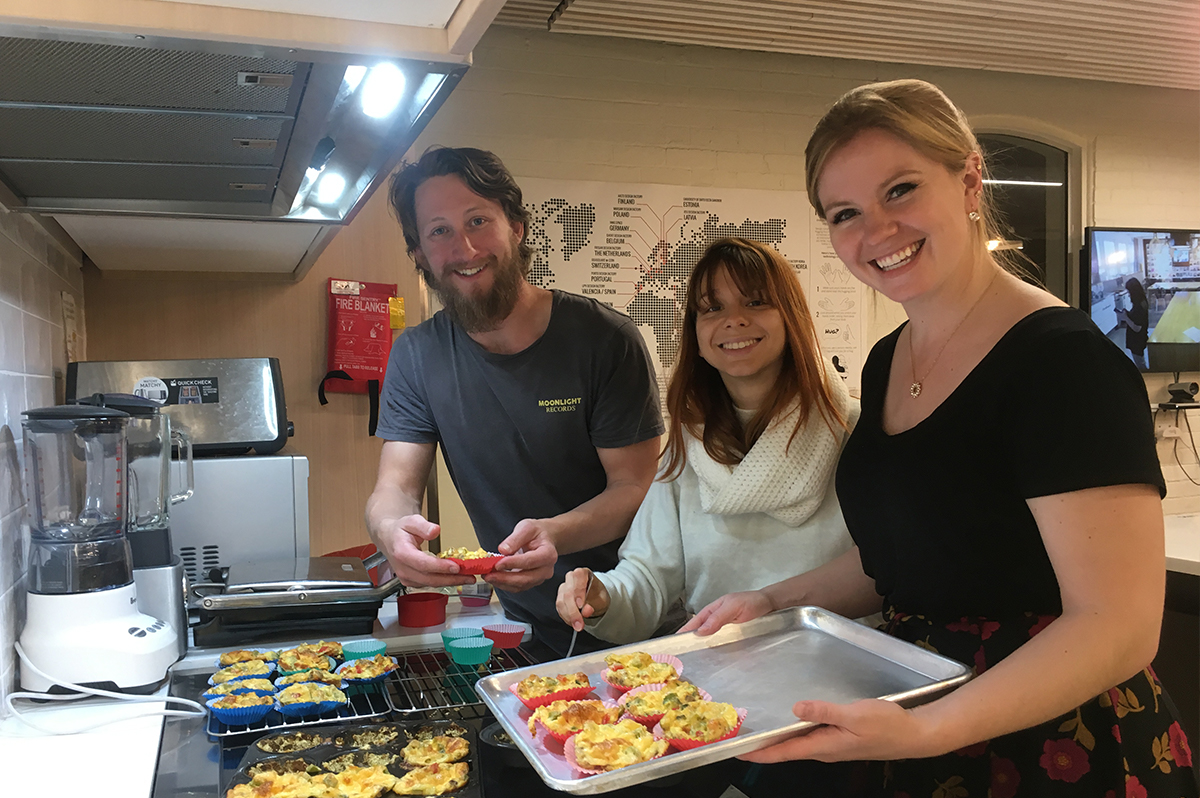 AMELIA IVERSON
Read about how Business student Amelia Iverson's experience with DFM shaped her future path.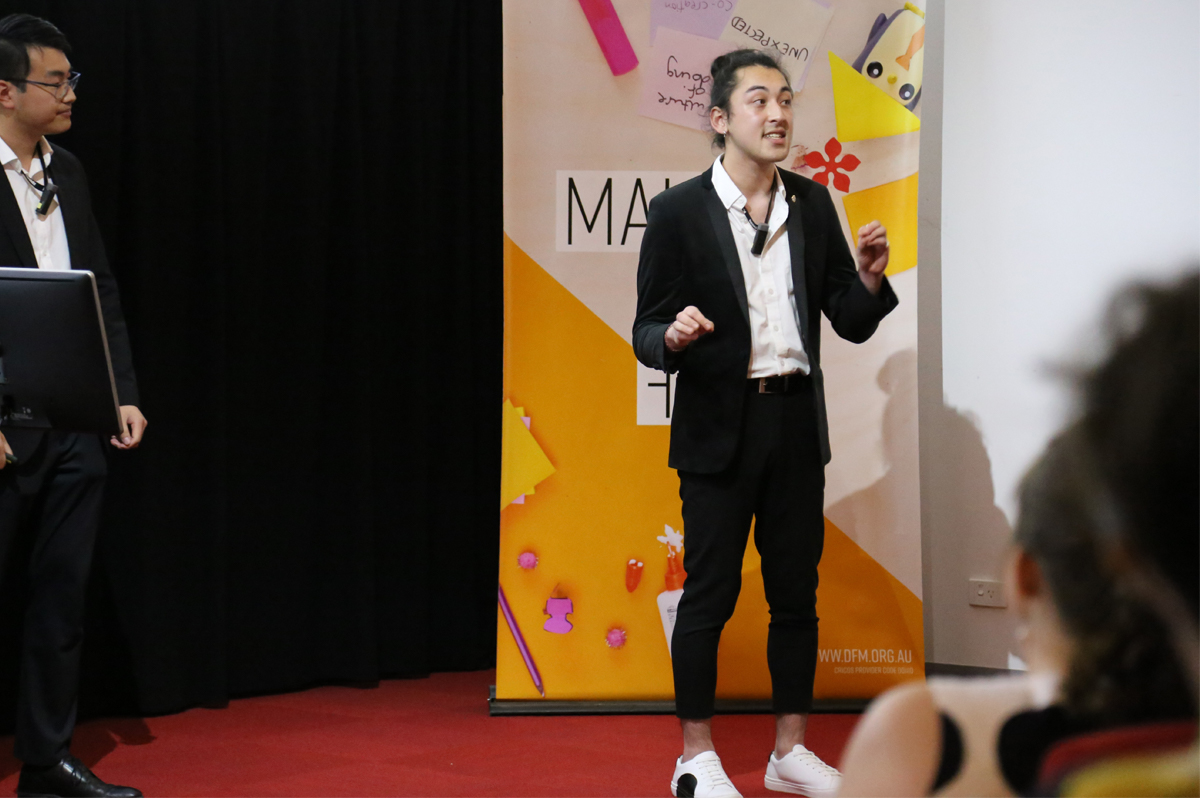 JAIDEN GUSTI
Communication Design student Jaiden Gusti immersed himself in DFM's vibrant community during his Honours year. Read about his experience here.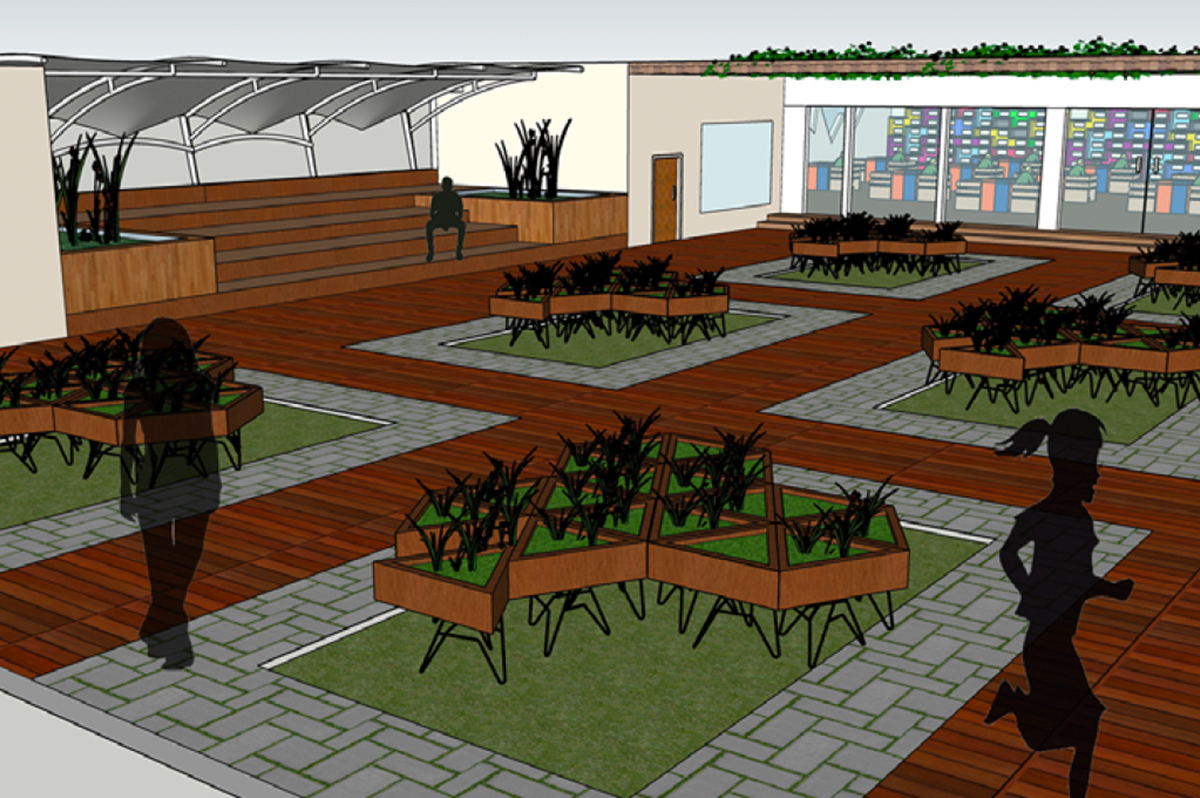 EMILY CHEESMAN
As part of Emily Cheesman's Master of Occupational Therapy she is completing a stream of units with DFM. Read about her introduction to design thinking here. 

Honour's and Masters: Local Program

The Local Program
The program is made up of two projects which run for one academic year. First semester is DDD40012(honours) or DDD80012(masters) DFM Toolbox: Innovation & Interdisciplinary collaboration 1 which focuses on imparting the skills and mindset needed to undertake the second semester industry project.
Second semester you undertake DDD40013(honours) or DDD80013(masters) DFM Practice: Innovation & Interdisciplinary collaboration 2, which is entirely focused on working as part of an interdisciplinary team on a project brought by an industry partner.
Teams normally consist of 6-8 students from design, occupational therapy, engineering, and business. These projects have a human-centered product, system, service, or digital proof of concept outcome.
Honour's and Masters: Global Program

The Global Program
The global program is currently open to high achieving students, by application, from Design Honours and Masters degrees, Masters of Entrepreneurship and Innovation, and Occupational Therapy.
Run in partnership with institutions and industry partners from the Design Factory Global Network (DFGN) and the SUGAR Network the global programs run for a full year, starting in semester two. Classes continue over the summer break, and wrap up at the end of semester one the following year, to match the European & American semester schedule.
The global programs are DFM's most intensive and rewarding offerings. Your communication and collaboration skills will be put to the test as you work across cultures and timezones with your international partners or team members. There will be constant challenges as you learn new skills, adapt to coping with highly ambiguous briefs, and strive to deliver to tight deadlines.
As part of these programs, students are generally required to engage in some short-term travel internationally.
For more on the global experience read a 2017 Alumni's reflections.
There are two different global programs which you can apply for:
CBI A3

or

ME310-SUGAR (open to Design Honours, Design related Masters and Master of Entrepreneurship & Innovation)
PdP (open to Master of Occupational Therapy)
CBI A3 | ME310-SUGAR
CBI A3

The CBI A3 program is run in partnership IdeaSquare at CERN, Switzerland, and partner institutions from the Design Factory Global Network. The program will challenge you to take advanced technology developed by CERN and find applications for the future that will have a positive effect on society.
In this program, you will learn how to use design innovation methods to take technology from the lab, to sustainable, socially beneficial applications. There is a focus on building business cases to ensure the outcomes are viable, and will affect social change.
ME310-SUGAR
The ME310-SUGAR program is run in partnership with Stanford University's ME310 program, and partners from the SUGAR network.
In this program, you will be part of a globally distributed team made up of students from Swinburne and an international partner university that work together remotely.
The course teaches you how to use the IDEO/Stanford design process derived from product development, and is concentrated in practice-based learning. Your team will prototype, test and iterate in order to develop and implement innovative solutions to real world design challenges posed by multinational corporate sponsors. Projects can range from product engineering to service design. The final proof-of-concept prototypes are typically featured at the Stanford/SUGAR Design EXPE in June in California.
PdP
PdP
The Product Development Project (PdP) program is run in partnership with Aalto University, Finland. You will be one of two–three Swinburne students who join an interdisciplinary team based at Aalto University. Your team will be given a product development challenge from a manufacturing company seeking innovative solutions to emerging problems and trends.
The program is based on problem and project-based learning (PBL) and it lets you apply product development process from problem definition, ideation, prototyping, and testing to building proof-of-concept solutions showcased in May at the Product Design Gala at Aalto University.
Post Graduate Opportunities

PhD Program
"There are no free rides to the future" 

– Professor Ian Chubb, former Chief Scientist for Australia.
"Creating a culture of innovation should not be an add-on — it needs to be integrated into organisations and universities"

– Business Council of Australia
These are types of comments that made Design Factory Melbourne completely rethink what a PhD should be.
Our answer? The Design Factory PhD Surf School.
In the Design Factory Melbourne PhD Surf School we embrace risk through the hazards of co-creation. We pursue ideas through transdisciplinary research that crosses local and global boundaries. We create collaboration between industry and research experts and research learners because no one can create the future alone.
What is the Design Factory PhD Surf School?
The PhD Surf School is a vibrant, living act of real world research.
It's global, so our PhDs get the chance to move, think, research and create with our University partners across the world in the Design Factory Global network.
It's transdisciplinary, so our PhDs can cooperate, integrate and operate across multi disciplines in Universities.
It's industry integrated, so every PhD has a real life industry partner who's grappling with real world problems, and together they solve those problems.
It's a PhD that wants to make a difference, because in the new millennium world the social, economic and industry bottom lines will be shared to make a better human future.
It's for risk takers and disruptive thinkers, so we welcome thinkers and doers who want to think and create sideways, obliquely and even back to front to uncover unexpected answers to unexpected problems.
It's a true scholarly act, where scholarly means understanding what research is, how theories work to explain ideas, and how every PhD adds one more step in the giant journey of human knowledge.
And it leads to leadership because all our PhDs learn what industries want as team members, team managers and team leaders who will become the next generation of global leaders of innovation.
Design Factory Melbourne is building areas of research expertise across three interrelated fields
1. Technology and knowledge transfer through transdisciplinary design innovation
2. Innovation Ecosystems
3. Space and place experience
We apply these fields to research in health, agriculture, smart cities, social agency, experience design and coaching. We also apply them to new hybrid areas of research that support future industry scenarios, strategy and demand.
To learn more about these fields of research click here.
If you are interested in studying your PhD with DFM, use the contact form below or email dfm@swin.edu.au
"Embrace risk, pursue ideas and learn from mistakes"
Contact Us
Got a question? or need more information? Get in touch with us to see you can embed Design Factory into your studies.